Jan 5, 2017
Let us introduce "doll festivals" in Oita Prefecture.
Doll festivals herald the coming of spring.
Carrying along Japanese traditions, the precious hina dolls will leave a fresh impression on those who encounter them.
[Hita city]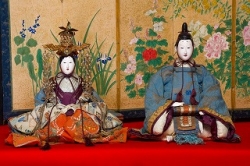 "Hita Doll Festival"
Hita City once thrived under Shogunate control. Hina dolls in Hita are gorgeous, a reminiscent of local prosperity in the Edo Period (1603-1868).
Dolls are displayed at old established families' residences and museums in Mameda and Kuma towns during the festival.

○Period: February. 15 (Wed.) to March. 31 (Fri.), 2017
○Place: Museums and facilities in Mameda-machi, Kuma, Amagase-machi
[Taketa city]
"Oka Castle Town Doll Festival"
Hina dolls from the Edo to Showa Periods (1603 – 1988) are displayed at stores around the town. The highlights are unique bamboo dolls, handmade dolls, and bamboo objects.

○Period: Mid-February. to Mid-March., 2017
○Place: Taketa Castle town area, Taketa-shi
[Usuki city]
"Usuki Doll Tour"
In the Tenpo Era reforms period (1841-1843), simplicity and frugality were recommended, and in Usuki, people were allowed to display only dolls made with paper. Usuki Hina Dolls are standing dolls, now displayed all around the city.

○Period: February. 10 (Fri.) to March. 20 (Mon., holiday), 2017
○Place: Around Nioza area, Usuki-shi

[Kusu town]
"Mori-machi Warabe Doll Festival"
Handmade paper hina dolls and origami (paper folding) works produce a fairy tale world, matching the town, known as a fairy tale home. The hina dolls displayed in front of houses melt our hearts.

○Period: Mid-March. 2017
○Place: Warabe-no-yakata, Mori area, Kusu-machi, Kusu-gun

[Nakatsu city]
"Castle Town Nakatsu Doll Festival"

○Period: February. 25 (Sat.) to March 12 (Sun.), 2017
○Place: Moro-machi, Nakatsu-shi, Nakatsu City Museum of History and Folklore, Yukichi Fukuzawa Memorial Museum, etc.






"Higashi-no-tani-no Doll Festival"
More than 1,000 hina dolls are displayed at Sennenji Temple.

○Period: February. 20 (Mon.) to March. 5 (Sun.), 2017
○Place: Sennenji Temple, Higashitani, Honyabakei-machi, Nakatsu-shi
[Kitsuki city]
"Kitsuki Castle Town Walk and Doll Tour"
In Kitsuki, you can also try on a kimono.

○Period: February. 11 (Sat.) to March. 12 (Sun.), 2017
○Place: Around Kitsuki-shi, and Yamaga-machi
[Bungotakada city]
"Bungotakada Doll Tour"
Hina dolls, handicrafts, and traditional everyday articles made from the Meiji to Showa Periods (1868 - 1988) are displayed at stores. Walking around the Showa-no-machi district is another fun activity.

○Period: February. 20 (Mon.) to March. 10 (Fri.), 2017
○Place: Chuo-machi Street, Bungotakada-shi

[Hiji town]
"Castle Town Hiji Doll Tour"
Hina dolls are displayed around the Hiji Castle ruins. Start the tour from Fukami Memorial Hall next to the Ninomaru-yakata building.

○Period: February. 11 (Sat.) to March. 20 (Mon., holiday), 2017
○Place: Around the Hiji Castle remains, and Oga area